This is not just any project. This is not just any house. This is a house of healing. My beloved and infinitely inspiring brother, Yeshaia Blakeney owns and runs this treatment center, The Integrity House. When my brother approached me about decorating this 7000 square foot Mediteranean home in Brentwood, I was thrilled. When he told me we had 2 weeks to complete this mission I was, well, admittedly a little bit freaked out. With the indispensable help of Emily, my brothers' wife and powerhouse, we scoured LA to find a harmonious blend of vintage & contemporary furnishings and art, that would bring this house to life. But, before this creative process, before the decor and the art, I brought the sage and we all sat down on the living room floor, my mother lead the ceremony and we blessed the house. This house is a house of healing, may all who pass through find peace, love, inspiration and fulfillment. Amen!
Photographed by Justina Blakeney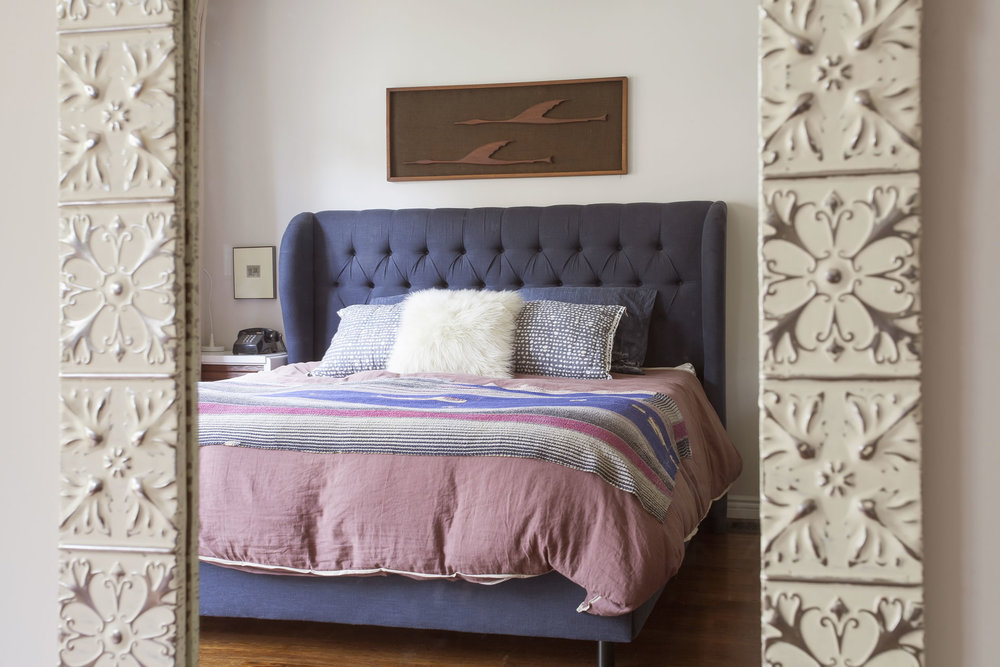 Alison & Eric have been my clients for almost 5 years. We began working together , shortly after they purchased their home. About a year later, when Alison was pregnant with their first child they reached out to me to design the nursery & transform the garage into an office/ lounge. Later we did a total makeover in their living room, and recently I completed the nursery for their newest addition the the family. For me, as a designer with a great passion for the home, I absolutely love to be able to build long term relationships with the people I work with. Seeing my clients grow and transform and being there to ensure that their spaces, the backdrop of their lives, continue to nourish & inspire them.
Photography by Roberto Garcia
It's always an interesting challenge to create privacy and intimacy in a loft without making big compromises that divide the space. For this project (a loft in one of the oldest industrial buildings in downtown LA), the clients; Reba, Volkert & their 2 dogs Wanda & Batman, wanted an enclosed bedroom as well as a guest room which would offer some privacy. We created the guest room on a raised platform with a built-in niche for a daybed for lounging & sleeping. The space can also be enclosed with drapes for privacy. In the master bedroom we hung a vintage silk parachute from the ceiling to create intimacy.
Photographed by Roberto Garcia
For this project we gut renovated the kitchen in this to-die-for Arts & Crafts home in the historical district of West Adams. The kitchen was in an incredibly sad state, and needed a new life. On one hand we wanted to respect the style and architecture of the home, but on the other,we wanted to seriously freshen up the space. To modernize, we chose to take a leap and do colorful cabinets, added a matt glass tile, built a kitchen island for the family to congregate around- complete with a drawer micro so that ugly convenient appliance is hidden (as it should be!). We added a farm house sink to match the style of the fabulous original wedge wood stove, and we extended the kitchen cabinets into the butlers pantry for extra storage.
Photographed by Roberto Garcia
The Blue Butterfly sanctuary is the site of an old navel housing facility. The base was constructed in the early 90's and then inhabited for only three years before becoming a ghost town. After 20 years and miles and miles of red tape the VOA (Veterans of America) got the go ahead to convert these 76 abandoned houses into homes for homeless single mother veterans and their children. As a single mama myself, and as a person who believes that every human who so desires to should have a place they can call home, this project moved me. I joined forces with my stellar sister, Justina Blakeney and together with the helping hands of a few dear friends, a dose of DIY genius, and a bunch of love, we turned this house into a home. On a shoestring ;-)
Photographed by Danae Rolyn
The Treehouse is the home I share with my daughter Miss Noa. It is our sanctuary and our refuge, our playhouse and our house of rest. It is carved out of the roof of a 100 year old craftsman home, so the spaces are all unique, and intimate, which I love. The colors I chose for the space are all slightly weathered as though they spent years in the sun. The vibe is bohemian, with all sorts of collected (Faith) and created (Noa) art. I have a passion for small spaces- they are just fun and playful, so to accentuate the element of play in the space we painted the ceiling with circus tent stripes in muted tones and turned my bedroom into a bedouin tent!
Photographed by Dabito
When I got my hands on this room it had white walls and an old ikea bed, oh, and that gem of a vintage radio too (we kept that ;-). Deborah let me go wild with color and have fun with the art & we created a cozy lady cove.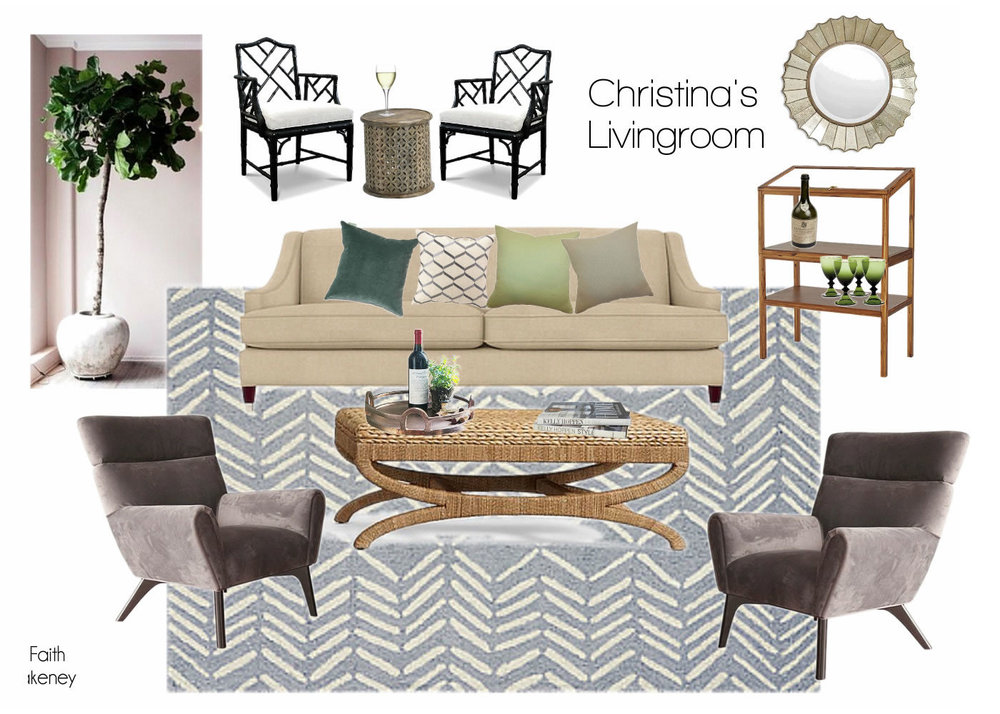 Laurel and Wolf is the worlds largest virtual interior design company. When they asked approached me about joining the platform I was like "uh, yes please!". As a designer the possibility to virtually design spaces all over American & beyond was a unique and wonderful opportunity that I could not pass up. The process begins with creating a "style board" for the client based on their needs, style and budget. These are a few of the boards I created for the clients of Laurel & Wolf.